Auction Types
Live Auctions
Our Live Auctions take place on Tuesdays. Auction Lots are available to view by private appointment only for two weeks (excluding weekends) prior to the sale.

The auction takes place in our purpose built gallery and saleroom with each Lot displayed on a plasma screen as it is sold. Subject to government covid regulations, prospective purchasers wishing to attend the sale must register their details with us beforehand. Bidding is by numbered paddle.
Bidding in Person
To bid at auction you must register with us to obtain a bidding number and provide photographic ID. Before the auction, fill in the form at the registration desk, provide proof of identity, and you will be given a paddle showing your bidding number. This paddle should be used for bidding. The auctioneer will note this number when you purchase a lot.
Auction speeds vary, and generally average between 50 and 120 lots per hour. The auctioneer will commence and advance the bidding at levels and in increments he considers appropriate (generally in increments of approximately 10% of the previous bid) and is entitled to place a bid or series of bids on behalf of the seller up to the reserve on the lots, without indicating he is doing so and whether or not other bids are placed. Please note Conditions 5 and 6 of the Conditions of Business for Buyers contain additional information on bidding.
Absentee Bids
If you cannot attend the auction we will be happy to execute written bids on your behalf, so long as you have registered your details with us beforehand. Please contact us at info@summersplaceauctions.com or telephone 0044 (0)1403 331331 to register and to obtain a bidding form. A bidding form is also printed in the back of the catalogue. This service is confidential. Lots will always be bought as cheaply as is consistent with other bids, the reserves and other commission bids. To avoid confusion, the sale date, lot number and a brief description should be filled in and signed. In the event of identical bids, the earliest received will take precedence. Always indicate a top limit, i.e. the highest price you would bid if you were attending the auction. Don't forget that buyer's premium and any VAT applicable will also be added onto your bid if you are successful. "Buy" and unlimited bids will not be accepted. Please refer to our Conditions of Business for Buyers available on our website and also printed in the catalogues. To ensure a satisfactory service please ensure that we receive your bids at least 24 hours beforehand.
Telephone Bids
If you cannot attend the auction, it is usually possible to bid on the telephone on lots with a minimum low estimate of £1,000, (this facility is not available in the Sealed Bid Auctions). You will need to have registered your details with us 5 days before the auction. As the number of telephones is limited, it is necessary to make arrangements on which lots you wish to bid on, at least 24 hours before the sale. We also suggest that you leave a maximum bid which we can execute on your behalf in the event we are unable to reach you by telephone. Please refer to our conditions of business for buyers', which is also printed in the back of our catalogues.
Bidding with The-Saleroom.com and other online platforms including SummersPlace Live
If you cannot attend the auction, you might also choose to bid using an online bidding platform. These may vary with each auction. We use a number of different selling platforms including live auctions, sealed bid auctions and online only auctions. Details including the commissions charged by each platform can be seen next to the catalogue listing on our home page.
Sealed Bid Auctions
Our Sealed Bid Auctions close at 4.00pm on the day after the Live Auction, but are on view at the same time and are included in the same catalogue with an illustration, description and estimate. Clients wishing to leave bids should contact info@summersplaceauctions.com or telephone 0044 (0)1403 331331 to register and for further information and a bidding form. A printed Sealed Bidding form can also be found at the back of the catalogue. The signed form detailing lot numbers, brief description and the bid(s) which you wish to leave can then be returned either by e-mail to our closed mailbox sealedbids@summersplaceauctions.com or by post to The Walled Garden, Stane Street, Billingshurst, West Sussex RH14 9AB marked "Sealed Bid". Sealed bids, when placed by telephone, are accepted only at the caller's risk and must be confirmed by letter or e-mail to info@summersplaceauctions.com. Bids will not be opened until after the close of the sale and sale results will be sent on Thursday afternoon after the bids have been processed.
We strongly recommend that if you have not viewed the sale in person, that you ask for condition reports on any lots you are thinking of leaving bids on prior to submitting your bids.
How It Works
Sealed bid auctions differ from established auctions in that the bid left is the bid that will be exercised in full. Therefore if you decide to leave a bid of say £900 on the lot estimated at £800 – £1000 and there is no higher bid, (where two identical bids are received, the earliest received bid will take precedence), £900 will secure the lot subject to buyer's premium and VAT on the premium.
If you have never bid in a sealed bid sale with us before, here are some things to be aware of as regards leaving bids for this auction:
Every lot in the sale has a fixed reserve, (the minimum price for which the lot can be sold) and this is never above the low estimate, it can be slightly below but in the vast majority of cases it is the low estimate.
The highest bid (as long as it is on or above the reserve) will be winning bid. This is the "hammer price" that the lot will be sold for.
You should consider leaving a bid of an odd amount in pounds, for example, rather than bidding £1,000, try say £1,004, as many lots have been bought for the sake of the odd £1!
You can tailor your bid in ways that are impossible to do in a live auction. For example if you really like three lots, but only need one, and the piece you like the most is later in the sale, simply mark your order of preference. As long as your instructions are clear, having looked at any other bids left on the lots, we will do our best to comply with your preferences.
In the event of two identical highest bids, the earliest bid received will take precedence
An auction price is made up of different components:
The winning bid is called the "hammer" price;
A commission, which is in addition to the "hammer price", is payable to the auctioneers. This is known as the buyer's premium, on which VAT is also payable.
Lots marked with ▲ are subject to Artists Resale Right (ARR), which is 4% of the "hammer price". All lots that have additional VAT are clearly marked in the catalogue with a †.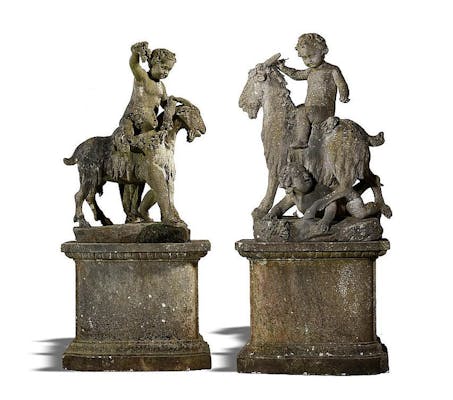 Online only Auctions
Recently we have introduced online only auctions to our sales calendar. As with our regular auctions, you need to register with us first and sometimes, with the relevant bidding platform such as the-saleroom.com.
When the sales catalogues are posted on our website, we will make clear what sort of auction it is and what the bidding processes are. If any of this is unclear please contact us on +44(0) 1403 331 331 or info@summersplaceauctions.com.
Sales by Private Treaty
Summers Place Auctions shall, from time to time, be offering some lots for sale by Private Treaty. This is especially relevant to larger pieces of an architectural nature, which will require a longer period of planning and consultation than an auction can provide.