Education
Although gardens have been extensively written about over the last few centuries it wasn't until relatively recently that specialized books on garden ornament first appeared. Perhaps the best early one is Gertrude Jekyll's Garden Ornament first published in 1918 and reprinted by the Antique Collectors Guide in 1982, ISBN 0907462162. Compiled by the leading garden designer of the Edwardian age, it gives a valuable insight to some of the gardens of the great British country houses many of which have subsequently been demolished and had their statuary sold and dispersed.
George Plumptre's Garden Ornament: Five Hundred Years of History and Practice, published by Thames and Hudson in 1989 traces the history of garden ornament around the world and has a useful survey of antique garden pieces sold at auction in the early days of Sotheby's garden statuary sales by James Rylands.
Garden Ornament by John Davis published by the Antique Collectors Club in 1991, ISBN 1851490981, provides in depth research into many of the manufacturers from the 17th Century onwards.
Antiques from the Garden by Alistair Morris published by The Antique Collectors Club in 1996, ISBN 1870673174 and Garden Antiques by Rupert van der Werff and Jackie Rees published by Millers in 2003, ISBN 1840007133 both of Sotheby's Garden Statuary Department have a broader approach to the garden and include material on garden tools as well as good advice on how to source and identify pieces.
Barbara Israel's Antique Garden Ornament: Two Centuries of American Taste, published in 1999 by Harry N. Abrams, ISBN 0810942038, is a definitive guide to the development of decoration in American gardens and has very useful sections on makers, foundries and maintenance and identification.
A contemporary take on the artistry of taxidermy
Errol Fuller, our Natural history consultant, has produced a book 'Voodoo Salon'. 'This book is a visual stroll through great examples of the craft – both historically & contemporary'.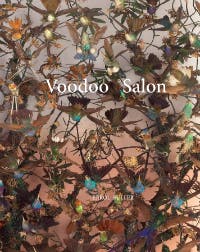 Cost £30 plus P&P. To order a copy email info@summersplaceauctions.com
Other Useful Publications
Garden Furniture and Ornament: A Catalogue of the Pyghtle Works, Bedford, Reprint of a 1910 catalogue published by Apollo Books, ISBN 0938290088.

The Bromsgrove Guild: An Illustrated History, edited by Quintin Watt, Warwick Printing Co, ISBN 0950947164.
English Leadwork, by Lawrence Weaver, first published in London in 1909 and reissued in 1972 by Benjamin Blom Inc, New York.

Archibald Knox and Mary Seton Watts: 'Modern Celtic Art' Garden Pottery, by Veronica Franklin Gould, Arrow Press, ISBN 0951581147.

Watts Chapel, by Veronica Franklin Gould, Arrow Press, ISBN 0951581112.

Mrs Coade's Stone by Alison Kelly published in 1990 by SPA, ISBN 1854210556.

Cast Iron Furniture by Georg Himmelheber, published in 1996 by Philip Wilson, ISBN 0856674621.

L'Age de la Fonte: Un Art, Une Industrie 1800-1914, by Jean-Claude Renard, published by Les Editions de l'Amateur in 1985, ISBN 2859170456.

Taste and the Antique, by Francis Haskell and Nicholas Penny, published by Yale University in 1981, ISBN 0300029136.
Other Useful Publications
Garden Sculpture by Michael Symes
A Glossary of Garden History by Michael Symes
Decorative Leadwork by P.M. Sutton Gould, No. 249
Sundials by Christopher St J.H. Daniel, No. 176
Cast Iron by Jacqeline Fearn
Wrought Iron by Richard Hayman
Ironworking by W.K.V. Gale, No. 64
Weathervanes by Patricia and Philip Mockridge, No. 291
Street Furniture by Henry Aaron, No. 47
Old Garden Tools by Kay N. Sanecki